Flotsam and jetsam from a torrential slide in the Cairngorms has been shot by a traveler on a train going through the Cairngorms.
David Henderson took his snap while going on the 07:55 Inverness to Edinburgh on Thursday morning.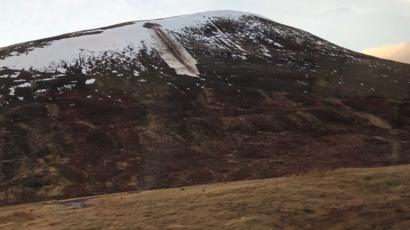 The Scottish Avalanche Information Service said it was a "decent photograph of a full profundity torrential slide".
Mountaineering Scotland said it featured the requirement for hillwalkers to know about potential torrential slide risk.The Scottish Avalanche Information Service (SAIS) had gotten a prior report of the slide at Drumochter.
It depicted it as an "ordinary spring full profundity torrential slide that is gone to profundity" brought about by water entering the snow pack and "greasing up" the ground underneath.
Potential hazard
SAIS said these kinds of torrential slides regularly happened toward the finish of Scotland's torrential slide season.
A representative stated: "With this torrential slide type it is hard to foresee the hour of its discharge, a human's weight is generally far-fetched to trigger it.
"Individuals in the slopes simply should know during this exceptionally mellow period that there might be collections of snow like this which may represent a risk.
"Be that as it may, the probability of an individual being influenced would be generally improbable and "unfortunate".
Mountaineering Scotland, which speaks to the interests of climber, walkers and skiers, said the slide featured the potential hazard for torrential slides even in what has been a gentle winter up until now.
A representative stated: "Temperatures have gone all over and snow has traveled every which way.
"In any case, anybody heading for the slopes ought to be appropriately arranged for full winter conditions and recall that rehashed freezes and defrosts imply that what snow there is might be rock hard and dangerous, so crampons and an ice hatchet are basic.
"Climate and conditions underneath can change significantly in a short space of time and experienced mountain dwellers know the significance of checking climate and torrential slide estimates and modifying their arrangements appropriately."
Scotland's torrential slide data season runs from about mid-December to mid-April.
SAIS evaluates day off torrential slide conditions in six mountain zones. They are Lochaber, Glen Coe, Creag Meagaidh, Southern Cairngorms, Northern Cairngorms and Torridon.
Thirty torrential slides have been recorded so far in the most recent season.
Last season, the administration recorded 144 torrential slides. Three individuals kicked the bucket, the primary torrential slide fatalities the SAIS recorded since 2015-16. Offer this tale About sharing