Archeologists have exhumed more areas of an uncommon Aztec pinnacle of human skulls under the focal point of Mexico City.
Mexico's National Institute of Anthropology and History (INAH) said a further 119 skulls had been revealed.
The pinnacle was found in 2015 during the rebuilding of a structure in the Mexican capital.
It is accepted to be essential for a skull rack from the sanctuary to the Aztec lord of the sun, war and human penance.
Known as the Huey Tzompantli, the skull rack remained on the side of the sanctuary of Huitzilopochtli, the benefactor of the Aztec capital Tenochtitlan.
The Aztecs were a gathering of Nahuatl-talking people groups that ruled huge pieces of focal Mexico from the fourteenth to the sixteenth hundreds of years.
Their realm was toppled by trespassers drove by the Spanish conquistador Hernán Cortés, who caught Tenochtitlan in 1521.
A photograph shows portions of an Aztec pinnacle of human skulls, accepted to shape part of the Huey Tzompantli
A comparable structure to the Huey Tzompantli struck dread in the troopers going with the Spanish champion when they attacked the city.
The round and hollow structure is close the colossal Metropolitan Cathedral worked over the Templo Mayor, one of the fundamental sanctuaries of Tenochtitlan, presently advanced Mexico City.
"The Templo Mayor keeps on astounding us, and the Huey Tzompantli is without question one of the most noteworthy archeological finds of ongoing years in our nation," Mexican Culture Minister Alejandra Frausto said.
Archeologists have distinguished three development periods of the pinnacle, which goes back to somewhere in the range of 1486 and 1502.
The pinnacle's unique disclosure amazed anthropologists, who had been hoping to discover the skulls of youthful male champions, yet additionally uncovered the crania of ladies and youngsters, bringing up issues about human penance in the Aztec Empire.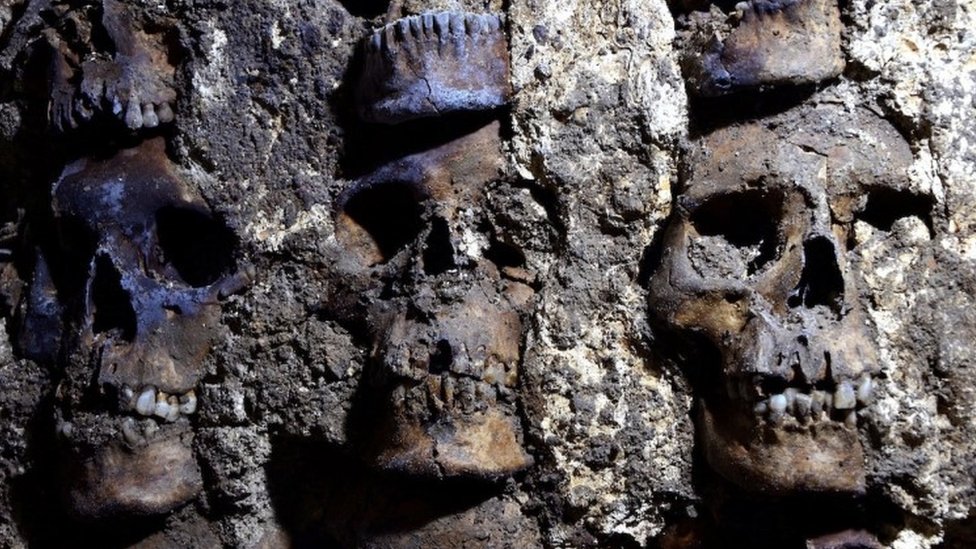 "Despite the fact that we can't state the number of these people were fighters, maybe some were hostages bound for conciliatory services," said paleontologist Raul Barrera.
"We do realize that they were completely made consecrated," he added. "Transformed into presents for the divine beings or even embodiments of gods themselves."