NI Secretary Brandon Lewis has said the following not many days are "critical" for the UK and EU to attempt to arrive at a post-Brexit economic alliance.
Inquired as to whether the political will was there on the two sides, he stated: "We'll need to perceive what occurs".
Head administrator Boris Johnson will go to Brussels in the not so distant future for converses with EU Commission President Ursula von der Leyen.
Mr Lewis demanded the public authority would work for a "full and reasonable" economic agreement.
What occurs if there's a no-bargain Brexit?
Why is fishing significant in Brexit exchange talks?
Brexit: What is a level battleground?
The secretary of state would not remark when approached if the public authority had requested an alleged "elegance period" for GB-NI organizations, if an economic agreement isn't endorsed before 1 January.
"Our emphasis is plainly on working through the expert joint council to get a strong arrangement that covers everything for Northern Ireland," he said.
"In case we're not in a situation to get an economic accord, those statements (in the Internal Market Bill) become significant."
Boris Johnson and Ursula von der Leyen
Inquired as to whether he would apologize to the Wave injury casualties gathering, who blamed him a week ago for "scapegoating" casualties in his treatment of inheritance matters, Mr Lewis said he "was right" in what he had said.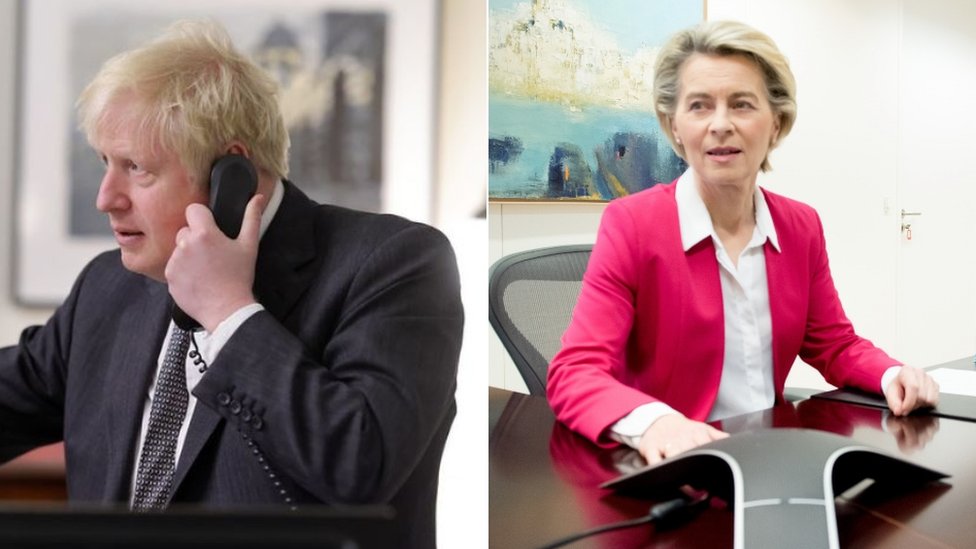 In the Commons last Wednesday, he asserted Wave requested that he "delay" the commitment around his proposed new heritage plan on account of the pandemic.
Wave said "at no stage" had they recommended that, however Mr Lewis said he was not "scapegoating anyone".
"We need to connect broadly – I think it was all in all correct to delay a portion of that work over the mid year in the core of the Covid challenge," he said.
"We won't present any type of enactment (on inheritance) until and after we've gotten an opportunity to connect generally and seriously with individuals across Northern Ireland, all things considered, and with casualties at the middle."
He additionally safeguarded his choice not to arrange a public investigation into state agreement in the homicide of Pat Finucane right now, saying the PSNI required opportunity to "complete their work" before any further choices would be taken a gander at by the public authority.