A British man has said his family missed a clearing trip to the UK from corona virus-hit Wuhan since they couldn't find a workable pace in time.
Adam Bridge man told that Today program on Friday that he, his significant other and one-month-old child had been not able to discover a vehicle to the air terminal so as to get the flight.
After a few deferrals, the flight – sanctioned by the Foreign and Commonwealth Office (FCO) – left Wuhan at 9.45am neighborhood time on Friday, conveying 83 Britons and 27 non-UK nationals, for the most part from EU nations.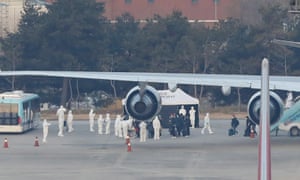 Be that as it may, Bridgeman said despite the fact that the FCO had sent a vehicle, it had shown up after the expected time to get him, his Chinese spouse and infant child to the air terminal on schedule. He said his significant other had even had a go at calling the police to check whether they could help.
He included: "I got a call saying there would be a flight leaving at 5am however we must be at the air terminal at 1am. We thought we are likely not going to make it, we won't go, in light of the fact that setting off to the air terminal, jumping on a plane with our infant child is in itself a sort of a hazard.
"At that point we got another call. They said they had deferred the flight a tad. Now we thought perhaps we ought to go. We attempted to get transport to the air terminal. Tragically we couldn't discover a vehicle. She [his wife] called the police to check whether they could organizing something, yet nothing.
"Luckily at last the Foreign Office organized a vehicle to come get us. Yet, sadly when he showed up – on the grounds that we experienced some difficulty getting him to find a good pace spot to get us – when he was there, we just had around 15 minutes to find a workable pace, so we thought it's past the point of no return so we just returned home."
Bridge man said the FCO had disclosed to him his family may have the option to leave the city on another flight.
He included: "The Foreign Office said that they may have the option to arrange for us to load up an alternate plane from, in their words, one of Britain's EU accomplices."