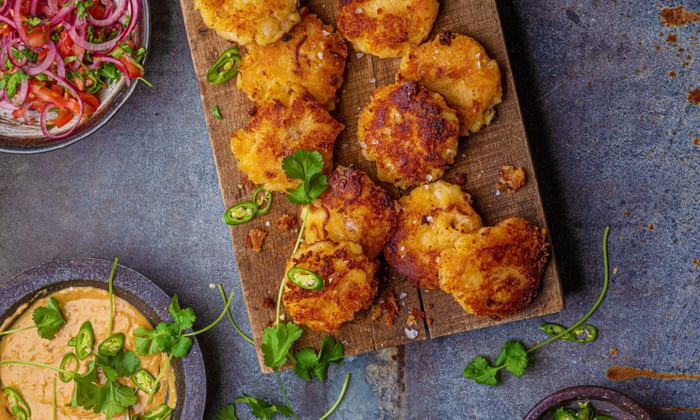 Serves 4
floury potatoes 1kg, stripped and cut into reduced down pieces
vegetable oil
red onions 2 little, stripped, 1 finely slashed, 1 daintily cut
ground paprika 2 tsp
cheddar 100g, ground
plain flour 1 tbsp, in addition to extra for tidying
unsweetened nutty spread 75g
entire milk 50ml
ground cumin ½ tsp
lime juice of 1
tomatoes 2 ready, finely cleaved
coriander a little bundle, leaves picked and finely slashed
salt and crisply ground dark pepper
to serve brisk salted onions (see beneath) and stew sauce or cut green bean stew (discretionary)
Commercial
For the brisk salted onions
red onion 1, stripped and finely cut
lime juice of ½
salt
For the salted onions, place the cut onion in a bowl and spread with bubbling water. Put in a safe spot for 5 minutes, at that point channel. Return the depleted onion to the blow away and pour the lime juice. Add salt to taste before serving.
Heat up the potatoes in a lot of salted water for 15-20 minutes, until simply delicate, at that point channel well and leave to steam dry in the search for gold 5 minutes.
Put a decent proportion of oil in a griddle to liberally cover the base. Spot over a moderate warmth and include the cleaved onion and the paprika and fry for around 8-10 minutes, until the onion is delicate. Put to the other side.
Tip the potatoes into a bowl and generally crush. Blend down the middle the seared onion blend, at that point the cheddar and flour, and season with salt to taste. Spread and put to the other side.
In a nourishment processor, mix the nutty spread with the staying seared onion blend, the milk and the cumin to frame a sauce-like consistency. Cook in a little skillet over an exceptionally delicate warmth for around 5 minutes to warm and thicken somewhat. Expel from the warmth and keep warm.
Blend the cut onion in with the lime juice and a decent touch of salt. Leave to macerate for at any rate 2 minutes. Blend in the tomatoes and coriander and season to taste with salt and pepper. Move to a serving bowl and put to the other side.
Make little golf-ball-size balls with the potato blend and level each into a patty shape. Residue the potatoes in flour and shallow-fry in a little oil over a moderate warmth for around 2 minutes on each side, until pleasantly seared. Be cautious as you turn the patties over – they will be extremely fragile. Serve bested with the nut sauce, tomato and onion plate of mixed greens and speedy salted onions. Include bean stew sauce or cut green stew, in the event that you like.