South Africa's police serve has cautioned eateries not to shroud liquor in tea kettles to attempt to get around a new restriction on the offer of alcohol.
President Cyril Ramaphosa said "careless conduct" brought about by drinking expanded the danger of spreading Covid as he reported the prohibition on Monday.
Another, quicker spreading variation of the Covid was identified in South Africa around fourteen days prior.
Mr Ramaphosa said it had become "grounded" in the nation.
As a feature of another large number of limitations pointed toward confining further transmission, he has prohibited social affairs aside from memorial services, forced a check in time somewhere in the range of 21:00 and 06:00, and requested all shops, bars and different scenes to close by 20:00.
Talking at a question and answer session on Tuesday after the new measures happened, Police Minister Bheki Cele cautioned that eateries would lose their exchanging licenses and proprietors arraigned on the off chance that they ridiculed the boycott.
"Try not to place liquor in your tea kettles in cafés. Try not to place liquor in the jugs composed 0% liquor. We know your stunts, don't do that," said Mr Cele.
Police Minister Bheki Cele
"In the event that we find that there is something else in the tea kettles and not tea in the tea kettle – we will ensure that you lose your [trading] permit."
To beat a hard lockdown forced in April and May during the primary Covid-19 wave a few eateries looked to dodge a prohibition on alcohol deals by serving drinks in tea kettles and different holders.
The alcohol boycott reported on Monday will be set up until mid-January and will be authorized by the police with help from the military.
On Sunday South Africa turned into the principal nation in Africa to pass 1,000,000 formally recorded Covid-19 cases, with very nearly 27,000 passings since the episode started in March.
A week ago, it recorded a day by day normal of 11,700 new diseases – an ascent of 39% on the earlier week – and from Wednesday to Friday, the every day number of new cases was over 14,000.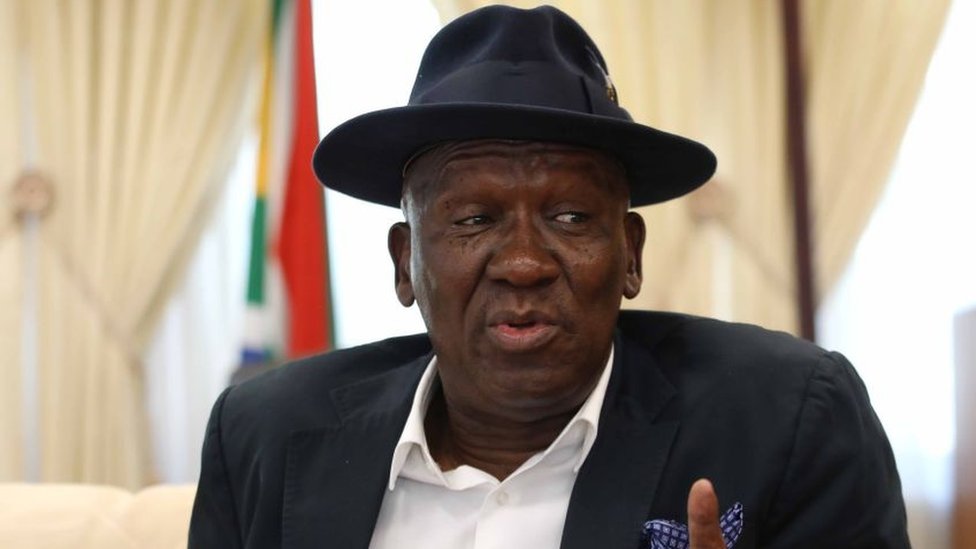 "As we needed to in the beginning of the lockdown, we presently need to smooth the bend to secure the limit of our medical care framework to empower it to react viably to this new rush of diseases," Mr Ramaphosa said on Monday.
"Wild conduct because of liquor inebriation has added to expanded transmission. Liquor related mishaps and brutality are squeezing our clinic crisis units."