A medical attendant and specialist who needed to drop their wedding due to the corona virus flare-up have hitched at the emergency clinic where they work.
Jann Tipping, 34, and Annalan Navaratnam, 30, got married in the Grade II recorded house of prayer at London's St Thomas' Hospital.
Visitors had the option to make the most of their extraordinary day remotely as one of the observers live-spilled the administration.
The couple said they chose to hold it "while everybody was as yet sound".
Ms Tipping and Mr Navaratnam had dropped their unique intends to marry in August since they dreaded their families would not have the option to travel securely from Northern Ireland and Sri Lanka for the afternoon.
Rather, the couple, from Tulse Hill in south London, chose to present the wedding and advanced an extraordinary go-beyond for a private wedding function.
Ms Tipping, a mobile crisis nurture, said they "needed to ensure we could celebrate while we were all still ready to regardless of whether it implied our friends and family watching us on a screen".
She portrayed the wedding on 24 April as "cozy" and "beautiful", yet included it felt "strange" getting hitched where the two of them work.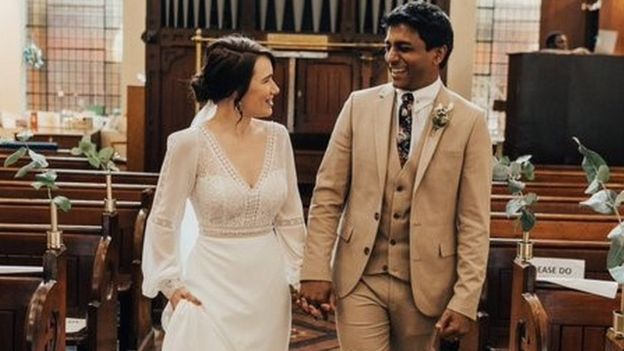 Mr Navaratnam, an intense clinical enlistment center who has been working at St Thomas' for a year, said they were "glad to such an extent that we have had the option to concede to each other".
A virtual beverages gathering, including a first move and discourses, was facilitated by the love birds.
Reverend Mia Hilborn, who held the administration, said she was "excited to be a piece of it".
In the wake of finding out about the wedding, Health Secretary Matt Hancock tweeted: "This is stunning."