Craigavon Senior High School's (CSHS) Portadown grounds is to close briefly after a group of Covid-19 cases at the school.
From Monday students with be instructed distantly "for a transitory period".
Understudies and staff at the school were deliberately tried for Covid-19 throughout the end of the week by the Public Health Agency (PHA).
CSHS has around 600 students, every one of whom are in year 11 or year 12.
That is on the grounds that it works under the Dickson plan, in which youngsters move at age 14 from middle schools in the Craigavon region.
Around a fourth of Craigavon Senior High's students are educated at the school's Lurgan grounds, which will stay open.
Be that as it may, most of students will be shown distantly following the impermanent conclusion of the Portadown grounds.
'Safe climate'
The Principal of CSHS, Ms Ruth Harkness, disclosed to News NI that the choice followed an ongoing bunch of affirmed COVID-19 cases "inside the school network ".
"Following testing, various positive cases have been distinguished and these people are needed to self-separate for 10 days," she said.
"All nearby contacts of positive cases will be needed to self-separate for 14 days."
She added: "Because of the unpredictability of this circumstance and following PHA exhortation, the school, related to the Education Authority has chosen to take a transitory action to distant learning."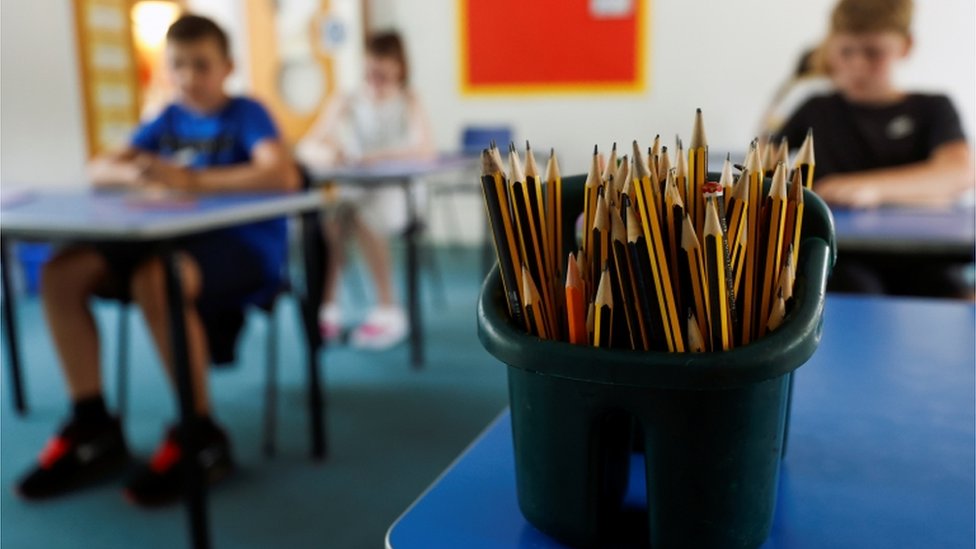 "This will permit educating of understudies to proceed in a sheltered climate."
Ms Harkness didn't determine precisely the number of positive cases had been distinguished among students and staff.
Anyway she said she was aware of the effect the choice to instruct students distantly would have.
"It's anything but a choice we make delicately yet it is significant that we discover the current circumstance around the group of cases in any case, with the help of the PHA we would then be able to settle on the most ideal path forward."
A pot of pencils in a study hall, with youngsters sitting at work areas out of sight
schools since the start of term in August until 8 November
"We will keep students and guardians refreshed when we have any additional data to share."
She said staff would do all that they could to help students with distant learning.
The latest measurements from the PHA show there had been 2,420 positive Covid cases in schools since the start of term in August until 8 November.
Be that as it may, numerous different students or staff have needed to self-separate subsequent to being in close contact with a positive case.
A few students have just needed to self-segregate for a 14-day time frame more than once.