There has been in any event one affirmed Covid-19 case in the entirety of NI's 39 uncommon schools since the beginning of term.
That is as indicated by the most recent data distributed by the Public Health Agency (PHA).
Around seventy five percent of the 126 Covid-19 cases revealed by exceptional schools to the PHA were among staff.
The PHA figures additionally show there were more than 140 "occurrences" in all schools in the week students returned after the all-inclusive half-term break.
An occurrence can be a solitary positive case, a bunch of two to five cases or in excess of five cases.
A bunch is characterized by the PHA as at least two research facility affirmed instances of Covid-19 among people in a single setting, for example, a school.
The PHA has been educated regarding 2,420 positive Covid cases in schools since the start of term in August until 8 November.
There had been 812 Covid-19 episodes in 625 schools up until that date, said the organization.
The pre-school area was the most un-influenced, with positive cases in just about 10% of 458 pre-schools.
Paradoxically, right around nine of every 10 post-elementary schools and each of the 39 extraordinary schools had at any rate one sure case.
Six extraordinary schools had groups of in excess of five cases, while 76 post-grade schools had comparative bunches.
A pot of pencils in a study hall, with youngsters sitting at work areas out of sight
Derry and Strabane was the committee zone with the most noteworthy extent of schools influenced.
A big part of NI's schools record Covid-19 cases
Just about 1,500 Covid-19 cases recorded in NI schools
As per the PHA figures, under 0.5% of students in Northern Ireland's schools have tried positive for Covid-19 since the beginning of term.
Notwithstanding, various different students or staff may need to self-seclude on the off chance that they are in close contact with a positive case.
A few students have just needed to self-disconnect for a 14-day time frame more than once.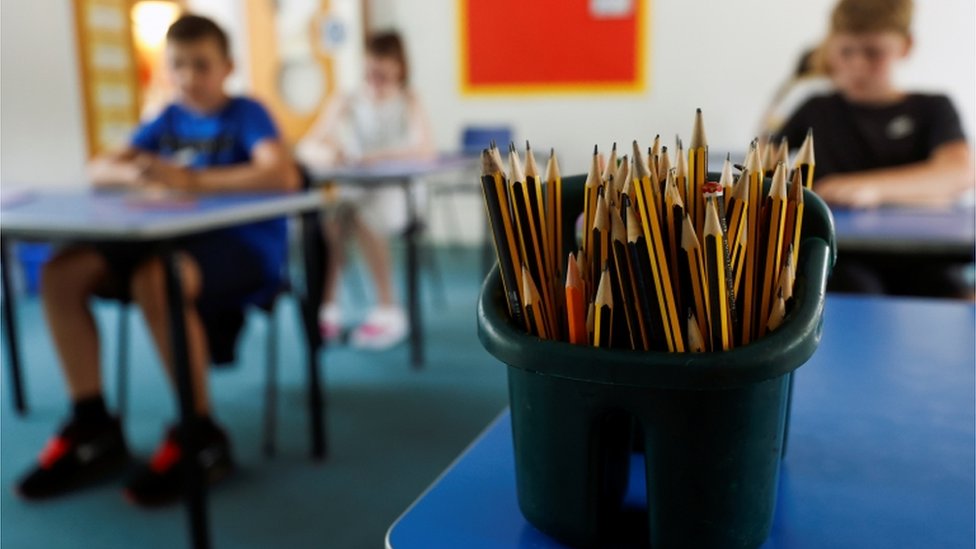 Separate participation measurements from the Department of Education (DE) show that around one in each 50 students (2.1%) in Northern Ireland was recorded self-segregating in the week after half-term.
Nonetheless, that was a fundamentally lower extent than the week prior to the break.