France has denounced the announced condemning of a French-Iranian scholastic to six years in jail in Iran.
Fariba Adelkhah was given a five-year term for plotting against national security and one year for promulgation, her legal advisor Saeid Dehghan said.
Be that as it may, he included that he expected the sentences would be served simultaneously.
The 61-year-old anthropologist and scientist at Sciences Po college in Paris was kept in June alongside her French partner Roland Marchal.
Mr Marchal was discharged in March this year as a feature of a detainee trade.
The French specialists liberated Jalal Rohollahnejad, an Iranian architect who was being held over allegations that he disregarded US sanctions against Iran.
Lately, Iran has captured many remote and double nationals on national security charges. A few, including British-Iranian foundation laborer Nazanin Zaghari-Ratcliffe, are on impermanent discharge as a result of the coronavirus pandemic.
Nazanin Zaghari-Ratcliffe jail leave expanded
Questionable destiny of Iran's imprisoned double nationals
There was no prompt affirmation of Ms Adelkhah's conviction or sentence from the Iranian legal executive on Saturday.
French Foreign Minister Jean-Yves Le Drian stated: "This condemning did not depend on any genuine component or set up actuality, and consequently has a political nature."
"We are encouraging Iranian specialists to quickly discharge Ms Adelkhah," he included.
The Iranian specialists don't perceive double nationality for Iranian residents and they have not conceded French representatives consular access rights.
Ms Adelkhah has fought her blamelessness and on 24 December she started a craving strike at Tehran's Evin jail alongside the Australian scholastic Kylie Moore-Gilbert, as indicated by Science Po.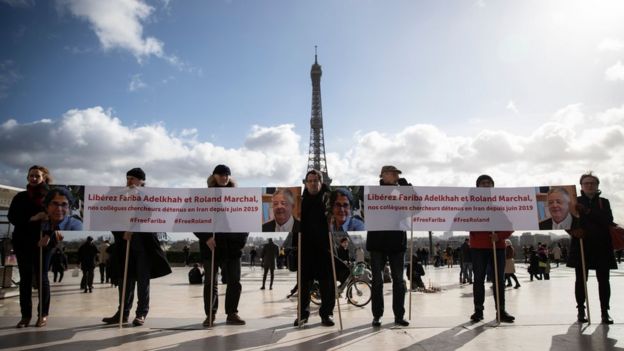 Ms Adelkhah finished the yearning strike on 12 February, after feelings of trepidation were communicated about her wellbeing. After eleven days, she was admitted to the jail's emergency clinic for treatment for serious kidney harm.
The Sciences Po analyst is a master in social human sciences and the political humanities of post-progressive Iran, and has composed various books, including Revolution under the Veil: Islamic Women of Iran.
At the hour of her capture, she was inspecting the development of Shia pastors between Afghanistan, Iran, and Iraq, and had invested energy in the blessed city of Qom.