In view of the spilled Samsung Galaxy S21+ CAD renders from over a month back, Pigtou in a joint effort with @xleaks7 bring total 3D delivers that give us a more critical glance at what the Galaxy S21+ may resemble. There's a 4K video alongside the renders as well.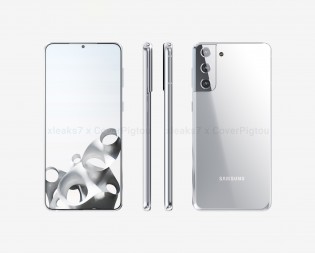 The pictures portray razor-dainty side bezels, even at that, overly little pattern for the forward looking camera and the bizarre camera module on the back. It is accepted that the measurements are as per the following: 161.55 x 75.6 x 7.86mm. On the off chance that those are right, we are taking a gander at nearly a similar Galaxy S20+ size proposing that the gossip about the 6.7-inch show size may be right.
Other than that, we can't see whatever else of incentive aside from that you can see the handset in detail. Remember, however, that the introduced renders depend on unsubstantiated CAD delivers so the last plan might be diverse once the S21+ dispatches.
The prestigious Samsung insider, Ice Universe, tolled in, saying that while the back envisioned is on point the front plan isn't exactly precise. He shared a render demonstrating marginally thicker bezels and not as even. The jaw is as yet a bit thicker while the side and top bezels appear to be indistinguishable.