News organization India Asian News Service (IANS) on Thursday, 7 May, made a bit of parody look like genuine news. The wire organization distributed an article with the feature "Imran Khan Reads Chart Upside Down, Claims COVID Curve Flattening" was later picked by a few different news sites.
A few news associations including Sahara Samay, DT Next, and Newsd distributed a report guaranteeing "Pakistan's Prime Minister Imran Khan has made an error asserting that the COVID-19 bend has been leveling in Pakistan. The socially awkward act happened in light of the fact that he was perusing the graph topsy turvy."
WHAT WE FOUND
On leading a TweetDeck search utilizing terms "Imran Khan claims COVID bend straightening" we went over a tweet by a Twitter handle Not The Dependent, which conveyed a screen capture of the first IANS article by writer Aarti Tikoo Singh. The Tweet asserted that the source article is a work of parody.
Submitting general direction to here we ran a Google catchphrase search and found a similar report on a Pakistani site The Dependent with a parody stamp.
The Dependent is a parody site based out of Pakistan.
Plainly, a work of parody was made look like genuine news by IANS. The essayist of the IANS story, Aarti Tikoo Singh, later gave an explanation.
This isn't the first run through when IANS was found spreading deception. The news organization has been gotten out for distributing deceiving content at different events previously.
(Not persuaded of a post or data you went over on the web and need it checked? Send us the subtleties on WhatsApp at 9643651818, or email it to us at webqoof@thequint.com and we'll certainty check it for you. You can likewise peruse all our reality checked stories here.)
We'll overcome this! In the mean time, here's all you have to think about the Coronavirus episode to protect yourself, educated, and refreshed.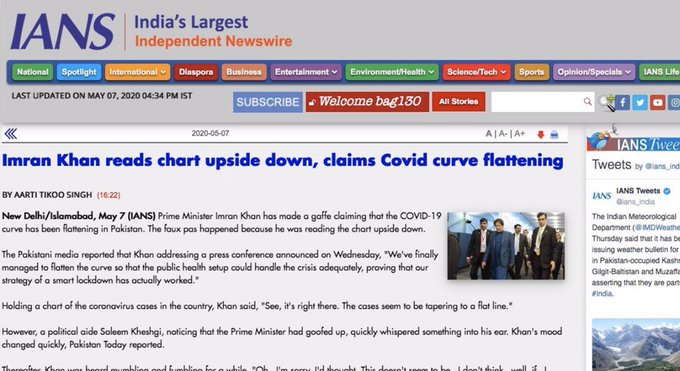 The Quint is currently accessible on Telegram and WhatsApp as well, Click here to join.