Israel is set to get its first Ethiopia-conceived serve, with the designation of a female MP brought there in a mystery activity during the 1980s.
Pnina Tamano-Shata has been picked by approaching agent executive Benny Gantz, who is framing a solidarity government with PM Benjamin Netanyahu.
The new government is required to be confirmed on Sunday after a postponement over pastoral arrangements.
Israel's Ethiopian-Jewish people group frequently gripes of separation.
Occurrences of police utilizing power against Israelis of Ethiopian birthplace – including deadly shootings – have prompted road fights and conflicts as of late.
The 140,000-in number network is among the least fortunate in the nation and experiences high paces of joblessness.
Nonetheless, many second era Ethiopian-Israelis have gotten effective across society, accomplishing remarkable situations in the military, legal executive and governmental issues.
The strange trick which carried Ethiopia's Jews to Israel
The predicament of Ethiopian Jews in Israel
Activity Solomon: Airlifting 14,000 Jews out of Ethiopia
Pnina Tamano-Shata, who has a place with Benny Gantz's moderate Blue and White gathering, has been named as migration serve.
The 39-year-old came to Israel at three years old as a major aspect of a sensational departure of Ethiopian Jews from Sudan nicknamed Operation Moses.
She, her five siblings and her dad were among just about 7,000 Ethiopian Jews transported out of the nation by Israel between November 1984 and January 1985. Her mom followed quite a long while later.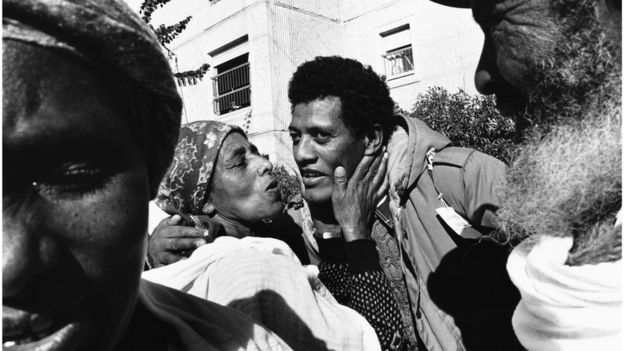 "For me, this is a milestone and the end of a circle," Ms Tamano-Shata revealed to Israeli paper Maariv. "From that three-year-old young lady who moved to Israel without a mother on a cross-desert foot venture, through experiencing childhood in Israel and the battles I drove am as yet driving for the network, joining, the acknowledgment of the other, and against separation and bigotry."
In the mid 1980s approximately 16,000 Ethiopian Jews strolled by foot from their homes in northern Ethiopia to get to Sudan and ahead to Israel. They – just as non-Jewish residents – were banned from leaving Ethiopia, so they made the excursion stealthily. Around 1,500 kicked the bucket in transit or in outcast camps in Sudan.
Sudan – a Muslim-greater part nation and part of the Arab world – was an adversary of Israel at that point, and the clearing was completed stealthily. The main tasks to carry Ethiopian Jews to Israel were completed by the Mossad, Israel's mystery administration, in a progression of brave activities from 1980.