What is iTunes error 14 (iPhone Error 14)?
It is possible to come across iTunes error 14 warning when upgrading or restoring your iDevice via iTunes. When faced by such warnings while updating an iDevice, most users get worried considering the amount of money invested on iOS devices. However, this error should not concern you because there are various solutions to this issue.

So, what is iTunes error 14? Well, iPhone error 14 or iTunes error 14 is the error that users get when upgrading or restoring iDevices through the iTunes program. The factors that could cause this type of error include:
> Faulty USB cable;
> Error from the firmware upgrade;
> Lack of sufficient space in the iDevice;
> Unreliable connection to the Internet;
> Outdated iTunes.
Part 1. Advanced Tactics to fix iTunes Error 14 or iPhone Error 14 without Losing Data
Part 2. 7 Basic Tips to Fix iTunes Error 14 or iPhone Error 14
Part 3. Manage iPhone Data without iTunes to Avoid iTunes Errors
Part 1. Advanced Tactics to fix iTunes Error 14 or iPhone Error 14 without Losing Data
The most advanced tactic of fixing iTunes error is using third-party software such as iOS System Recovery. This software allows iPhone users to fix issues on their devices with no complexities involved, such as iTunes error 9, iPhone stuck in Apple logo, iPhone gets stuck in recovery mode and more iPhone errors or iTunes errors. In addition, it solves this error without damage or loss of data such as contacts, messages, videos, and images. And it is fully compatible with almost all iPhone devices, including the iPhone XS, iPhone XR, iPhone X, iPhone 8, etc. Here is the process of using this program:
First Step: Getting the Program
> Download and install the best iOS system recovery program for your Mac or Windows-based PC;
> Launch the software.
Second Step: Connecting iDevice
> Using an original iPhone USB cable to connect your iPhone or iPad to computer;
> This program will automatically identify your iDevice;
> Select "More tools";
> You will find "iOS System Recovery" on this main interface.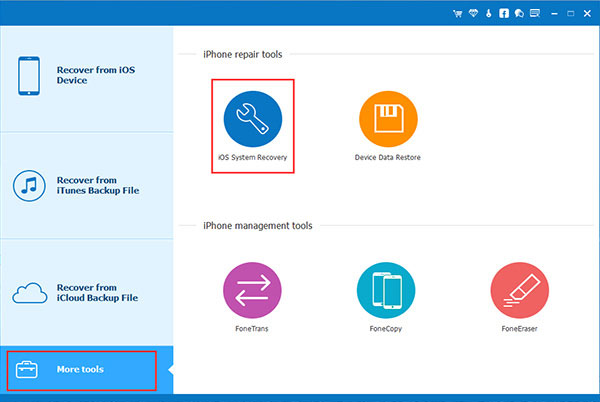 Third Step: Download the latest iOS firmware.
> Hit "start" to begin;
> Download the latest version of iOS firmware for your iDevice;
> Wait for the process to complete before continuing.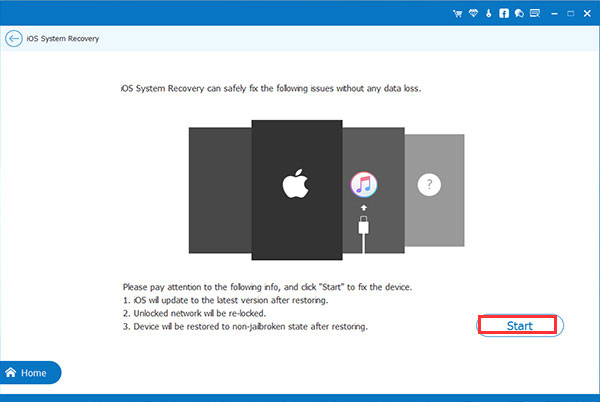 Fourth Step: Repair
> The iOS gadget will fix the problem with your iPhone;
> After a restart to your iDevice, the process will be done entirely;
> Afterward, the issues are wholly solved and the iPhone is operating normally.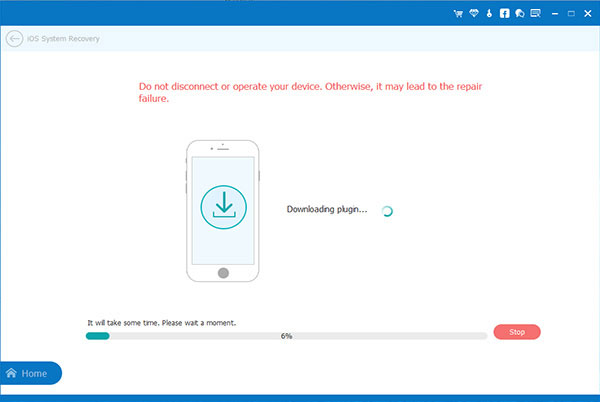 You May Want to See:
Solutions to Fix iTunes Error 9 or iPhone Error 9
Simple Guide to Recover Lost Data from Dead iOS Devices
Part 2. 7 Basic Tips to Fix iTunes Error 14 or iPhone Error 14
Tip 1: Fix iTunes Error 14 by checking the USB cables and connectors
If you encounter iPhone error 14, it may be due to a faulty USB connection. Therefore, always ensure that the iPhone USB cable is working correctly. You can solve the issues with your cable by:
> Using the original USB cable from Apple;
> Insert the USB cable to a different port in your PC;
> Consider testing the USB cable in another device.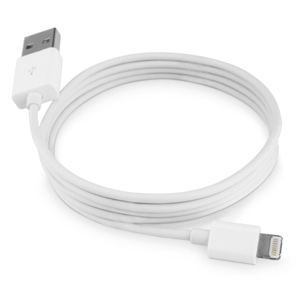 Tip 2: Fix iPhone error 14 by deactivating third-party security software
If you have third-party security programs installed on your PC, consider turning them off. Afterward, try to restore and upgrade your iDevice. If the iTunes error 14 persists, you should uninstall the security programs. Some iPhone users have encountered the iTunes error 14 when upgrading their iPhone and their phone gets stuck in recovery mode. Luckily, if such problems face you, you can always use third-party programs to solve the problem.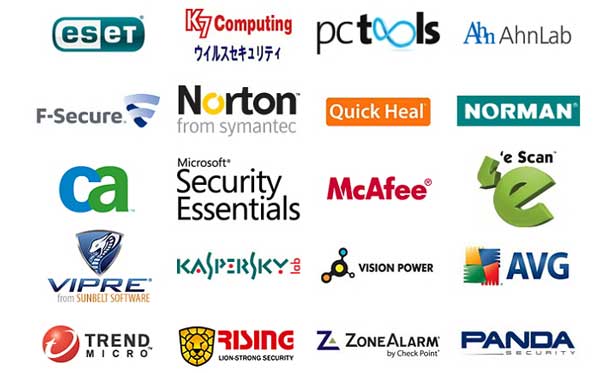 Tip 3: Fix iTunes error 14 by updating iTunes and the operating system
Most users refer iPhone error 14 as iTunes error 14 just because it occurs when one is trying to update or restore an iDevice via iTunes. When this happens, there may be two issues leading to iPhone error 14: an outdated operating system or outdated iTunes program.
Here, all that is needed of you is to open iTunes and update your iTunes software or install the latest iTunes instead. You will find all the updates that you need here. If your iTunes or operating system is not updated, you should consider updating it.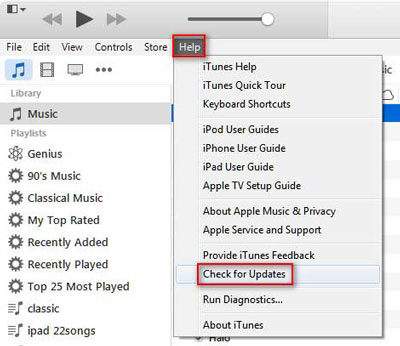 See Also: 4 Solutions to Fix iPhone Stuck on Verifying Update
Tip 4: Fix iPhone error 14 with a hard reset
It is possible to solve this error by performing a hard reset. By using this tactic, you will lose your data because the method technically returns your iDevice to default factory settings. Due to this, you should always perform a backup before carrying out a hard reset. Here is how you can perform a hard reset:
> Hold the Home and Sleep button simultaneously for about 10 seconds;
> Wait for the screen to go black and restart;
> Release the buttons after the appearance of the apple logo;
> The iDevice will reset itself automatically, and you will only be required to input the security code;
> Check whether the iTunes error 14 is solved, and try other tactics if it is not.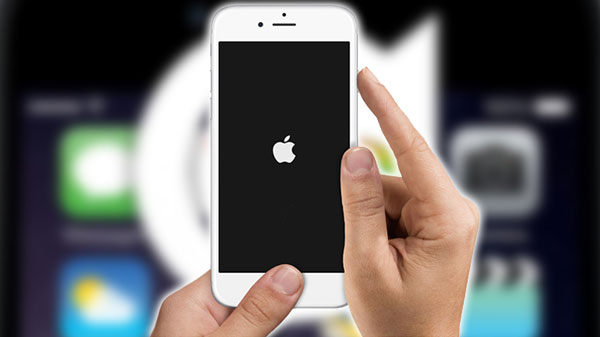 Tip 5: Fix iPhone error 14 issue by making use of the warranty
All phones from Apple come with a one-year warranty. Now, if you are facing problems with your iPhone, consider taking it back to the nearest Apple Store to have it repaired or replaced. Nevertheless, you should also perform a backup of your documents before taking it to Apple Shop.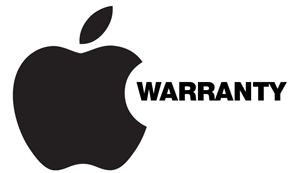 Tip 6: Fix iPhones error 14 errors by deleting/moving a corrupted IPSW file
The IPSW file is used by iTunes when updating or restoring devices. With this, it may be impossible to restore your iDevice if the IPSW file is faulty. A corrupted IPSW file may lead to iTunes error 14. You can solve this issue by either renaming or deleting this file.
Here is how you can locate the IPSW file:
> Locating IPSW file in Mac OS – go to the library, iTunes, and then iPhone Software Updates;
> Locating IPSW file in Windows XP – go to local disk C, Document & settings, app data, Apple PC, iTunes and then iPhone Software Updates;
> Locating IPSW file in windows 7 and 8 – go to local disk C, Users, AppData, Roaming, Apple PC, iTunes, and then iPhone Software Updates.
Steps to follow after finding the IPSW File:
> Close iTunes;
> Start iTunes again;
> Erase the IPSW file by going to the system drive, user, your username, AppData, Apple Com, iTunes and then iPhone software updates;
> Upgrade or restore your iDevice;
> You should not experience iPhone error 14 after performing these steps.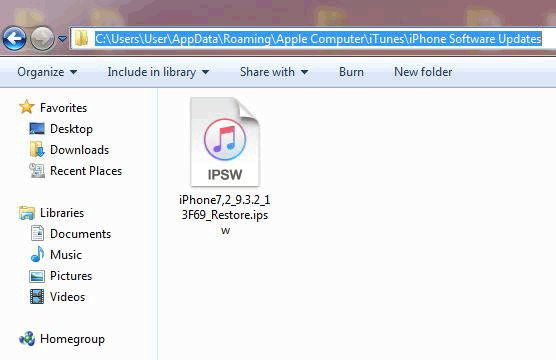 Tip 7: Restarting Your PC and iDevice
This is a simple yet working tactic of solving iPhones error 14 issue. Most users often forget this tactic, but it is always advisable to reboot your gadget when you encounter any problem.
More Useful Tips:
How to Easily Recover Data on iPhone after iOS 12 Update
How to Fix iOS 12 Software Update Failed on iPhone/iPad/iPod
Part 3. Manage iPhone Data without iTunes to Avoid iTunes Errors
iOS Assistant is the perfect software when it comes to managing iPhone data without using iTunes. It allows all iPhone, iPod touch and iPad users to manage data efficiently with simple clicks, including the contacts, text messages, calendars, reminders, notes, music, photos, videos, etc. The good thing is that this program is easier to use than iTunes. In fact, managing iDevice data is now a walk in the park after the invention of this program.
The first step involves downloading and installing the software on your computer.
The program has the ability to transfer most files from your iPad, iPhone or iPod to the PC. Now, if you want to transfer files between your computer and iDevice, follow the following steps.
Note: Please make to install the latest iTunes on your computer, or the program will fail to detect your device.
Step 1. Connect iDevice to computer.
> Launch the application;
> Connect your iDevice to the PC through a USB cable;
> Your iDevice will be recognized instantly by the program;
> Click Trust option on your iPhone and hit "continue" button.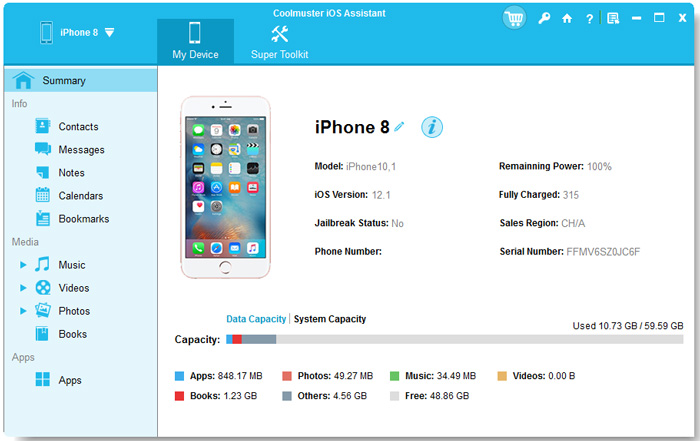 Step 2. Manage files without iTunes.
> Now, go to the folder that you want to transfer and preview its info;
> Select all the files that you want to move;
> Choose the "Export" option and select the correct output format and start the process.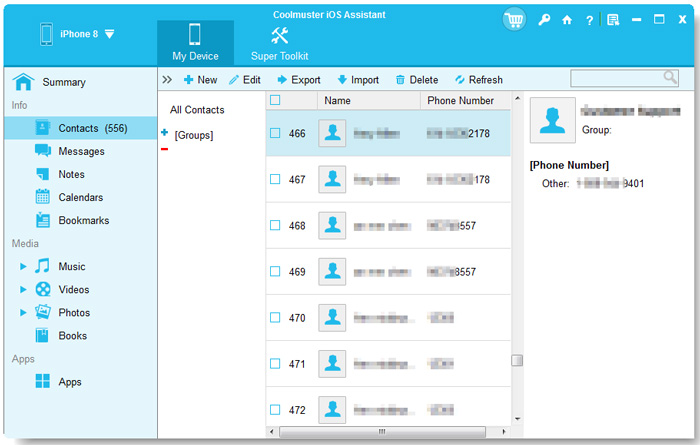 Some of the files that you can move from your iDevice to the computer include photos, contacts, videos, books, and notes. You can also use iOS Assistant to manage iTunes backup for iPhones, iPod touch and iPad.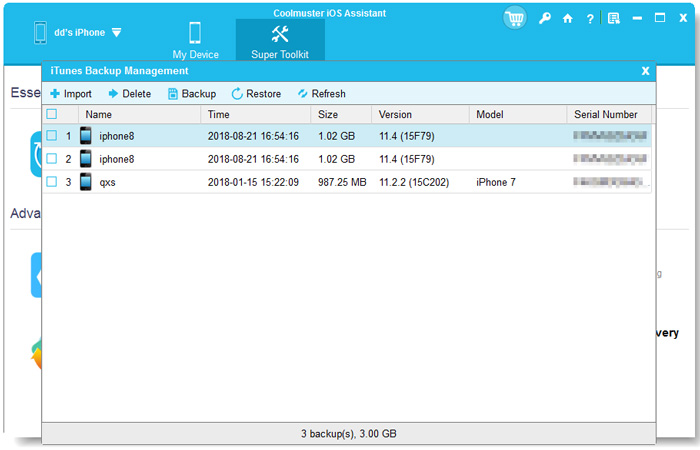 Source:Cool Muster