Jihadist group al-Shabaab suspected of placing roadside device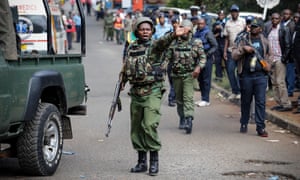 A few Kenyan cops were killed on Saturday when their vehicle hit a roadside bomb close to the Somali fringe, specialists said.
"Lamentably we lost a few officials and the vehicle they were going in has been seriously harmed," said the Kenyan head of police, Hilary Mutyambai, without giving an accurate number of fatalities.
Another police source who asked not to be named, said there were "around 10 officials" slaughtered and the gadget was suspected to have been put by the jihadist bunch al-Shabaab gathering.
The assault occurred in the eastern Kenyan district of Garissa, flanking Somalia, which is routinely the area of al-Shabaab assaults.
One 15 June at any rate eight police were slaughtered in comparative conditions in the district of Wajir, toward the north of Garissa.
The utilization of natively constructed weapons against police and armed force watches in the northern and eastern outskirt locales is generally normal. Al-Shabaab, a member of al-Qaida, has been battling for over 10 years to oust progressive universally sponsored governments in Mogadishu.
A territorial peacekeeping power in Somalia, Amisom, which pursued al-Shabaab out of Mogadishu in 2011, incorporates troops from various African countries including Kenya, making police and troops from the nation an objective for the Islamist gathering.