Understudies have destroyed "jail like" fencing raised around their grounds on the very first moment of England's new lockdown.
Those living at the University of Manchester's Fallowfield lobbies of living arrangement stirred to discover laborers setting up "immense metal boundaries".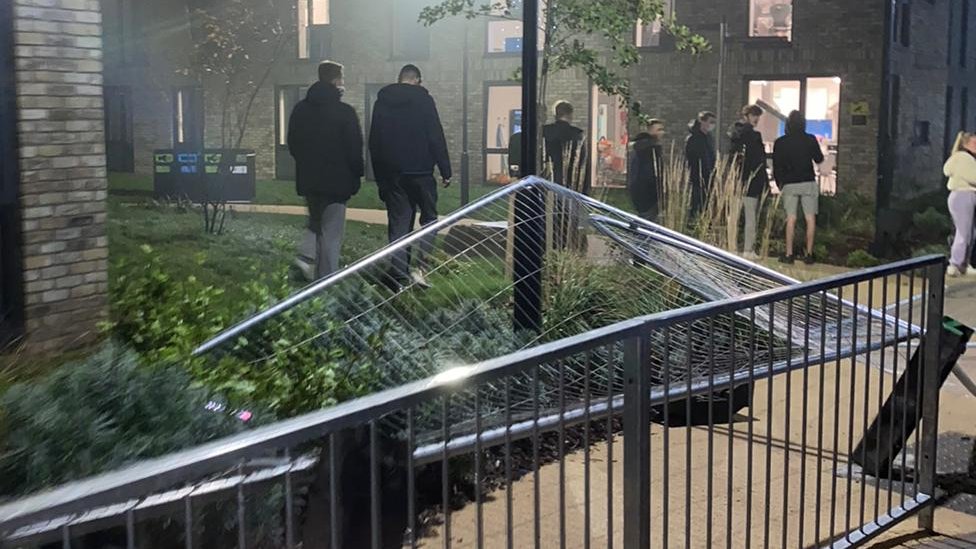 They were in the long run pulled down as many understudies – who said they were not cautioned about the measure – dissented.
The college apologized "for the worry and pain caused".
Understudies said the wall, set between structures, closed off some section and leave focuses and left them feeling caught.
Under the new lockdown rules in England, college understudies have been advised not to move back and forward between their perpetual homes and understudy homes during term time. The administration says they should just get back toward the finish of term.
Understudies remain close to a segment of the fence
First-year Management understudy Megan, who would not like to give her last name, stated: "Resolve is extremely low, we're truly baffled we didn't catch wind of this heretofore and about the reality it went up with no clarification.
"They're immense metal hindrances, they're associated with each other and there's in a real sense no holes.
"There is fencing around the entire outside, we feel like it's totally pointless. It causes it to feel like we're in a jail."
Individual first-year, English writing undergrad Ewan, said the 7ft (2.1m) fencing was a further hit to numerous who had just gone through weeks secluding.
"Dislike living at home, we don't have a couch, we have a kitchen and plastic seats," he said.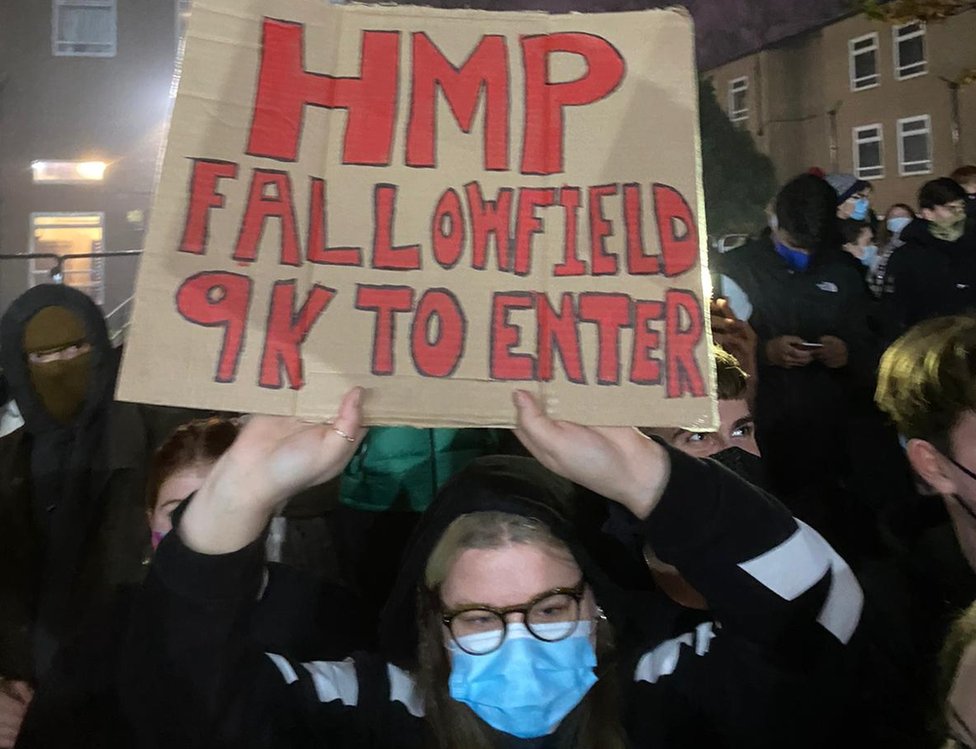 "It is extremely unlikely you can unwind there. You're in a totally extraordinary city and you do feel forlorn there and caught."
An understudy holds a sign perusing "HMP Fallowfield, 9k to enter"
Ewan was among the individuals who went to the dissent where a great part of the fencing was destroyed.
"Individuals were hauling them down and hopping on them," he said.
"We strolled on the grass that was confined by the wall. We did a lap of the entire grounds."
The college at first demanded it had kept in touch with understudies illuminating them about the development, however has since recognized work started "in front of the message being seen".
In an assertion, President and Vice-Chancellor Prof Dame Nancy Rothwell said the fencing was not intended to cause trouble nor keep understudies from entering or leaving the site.
It was expected, she stated, to address wellbeing and security worries from understudies and staff, "especially about access by individuals who are not occupants".
"The wall are being brought down from Friday morning and understudies are being reached quickly," she said.
"Elective safety efforts, including extra security watches are being set up."