Guardians in England who don't send their kids back to class in September will confront fines, says the Education Secretary Gavin Williamson.
"Except if there's a valid justification for nonattendance… we'd be forcing fines on families," he said.
In any case, head instructors said fining guardians was not the "right methodology" from the start.
"There will be many terrified and on edge guardians out there," said Geoff Barton, pioneer of the ASCL head educators' association.
Head instructors, who choose whether unlucky deficiencies are approved, are bound to need to develop guardians' trust in a protected return, said Mr Barton.
PM promising £1bn to fix disintegrating schools
All kids back to class full-time in September
Elementary schools back yet blended picture on turn-out
Plans dropped for every essential student to restore this term
Mr Williamson, talking on LBC, said punishment fines for non-participation would be a piece of school being obligatory again next term, except if there were "valid justifications, for example, a neighborhood spike in diseases.
"We do need to get once more into mandatory training and clearly fines sit close by as a feature of that," said England's instruction secretary.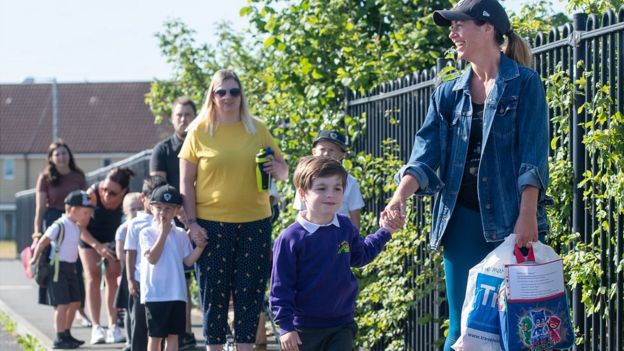 This danger of fines was reprimanded by the Young Minds psychological well-being good cause, which cautioned that numerous youngsters could feel "outrageous tension" about returning to class, for example, on the off chance that they were stressed over protecting a relative with medical issues.
Rather than giving fines, the cause proposed a "change period" with greater adaptability toward the start of term.
How did guardians react?
"Absolutely for youngsters coming back to class now and not an aficionado of guardians removing their children from school," said Chris, reacting to over this story. "Be that as it may, this is a joke."
He says if kids can be out of school for a half year – "how does missing a couple of long stretches of school out of nowhere become an enormous arrangement?"
"Unfortunately that is so inconsiderate!" said Shelley. She said her youngsters have been out of school for quite a long time – "and out of nowhere I am being undermined with fines?"
"It is safe to say that you are kidding? You can't flip from anticipating that us should steer to undermining us!" said Shelley.
"Not an issue. Presently I can fine the school for not giving any training since the lockdown," said another parent, with a little girl who had just had 30 minutes eye to eye time at her auxiliary school.
"So regardless of being a parent who has attempted to keep up telecommuting nearby full time self-teaching for as long as four months and making my own educational program, the most intense voice we get notification from the training secretary is dangers of fines," said Kevin in Exeter.
Mick in the East Midlands stated: "I believe that fines are a too blundering approach. There ought to be a timeframe for the school, guardians and understudies to settle in."
"In the event that the plague spikes in September, after the administration ease in the late spring, at that point its absolutely impossible to send my youngster to class," said Mo in West London.
Chris in London said kids will before long have the option to "go out to shop on Oxford Street, or to Spain on vacation, yet not to class. This is a disfavor".
'It's not around 1 metre…'
Mr Williamson additionally demonstrated on Monday that the arrival to class in the pre-winter would not depend on social removing.
"It's not around 1 meter, it's not around 2 meters," he told Breakfast, saying that wellbeing would be founded on "decreasing the quantity of transmission focuses" inside schools.
This would mean entire classes turning out to be "bubbles" isolated from different students – and he guaranteed "extensive plans as far as both testing and following".
That could mean neighborhood terminations of schools or sending home individual year bunches in light of Covid-19 contaminations.
During the arrival to class for certain classes during the lockdown, participation has been intentional and fines have been suspended.
Under this intentional game plan, in grade school just about 33% of Year 6 students are joining in and a fourth of understudies in Year 1.
Yet, all understudies are required to return to class full-time in September – and the fines for unapproved nonappearance will likewise be applied.
'Time of effortlessness'
Head educators will choose if a nonattendance is unapproved – and this will be alluded to neighborhood specialists, who can give a fixed punishment notice of £60, ascending to £120 if not paid inside 21 days.
Head educators dismissed the possibility of a prompt giving of fines, recommending a "time of elegance" to develop trust over wellbeing toward the beginning of term.
"This is a lot of an instance of building certainty that it is sheltered to return, instead of constraining the issue using fines," said Mr Barton.
Robert Halfon, seat of the Education Select Committee, was likewise far fetched of forcing fines from the beginning of term.
He said a few families would have "veritable feelings of trepidation" over security, and as opposed to giving fines, he proposed a mandatory participation register to be worked by nearby specialists, who might consistently contact families to inquire as to why kids were not in school.
Work pioneer Sir Keir Starmer supported the necessary come back to class in September.
"It totally ought to be the correct thing that kids are in school and everything ought to be done to get them into school," he said.
Be that as it may, Sir Keir blamed the head administrator for "attempting to accuse every other person" for why there were not more students in school as of now.