The Queen was clad in full formal robes as she conveyed her discourse at Parliament's State Opening.
Be that as it may, one thing was absent from her intricate outfit: the gem encrusted Imperial State Crown.
Rather, she wore the jewel diadem conspicuous from her profile on British stamps and coins, while the crown laid on a table close to her.
The choice turned out poorly via web-based networking media.
The decision involved individual inclination for the 93-year-old ruler.
The diadem is a lot lighter than the crown.
The tiara is customarily worn for the adventure to and from Parliament.
The crown, which was dispatched for the Queen's dad, George VI's, royal celebration in 1937, flaunts almost 3,000 precious stones, 17 sapphires, 11 emeralds and around 270 pearls – notwithstanding the enormous jewel, ruby and sapphire that embellish the back and front.
It weighs about a kilo.
New laws on wrongdoing, wellbeing and the earth
The Queen's Speech: Robes, tiaras and pomp
Boris Johnson's wrongdoing guarantees crunched
The edge of the George IV State Diadem, be that as it may, is about a fourth of the width and set with around 1,300 precious stones and 170 pearls.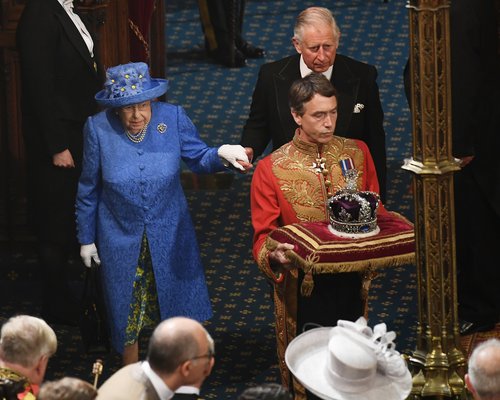 The Queen's Speech is the key piece of Parliament's State Opening – when the ruler peruses a discourse composed by pastors setting out the laws the administration expectations will be affirmed by Parliament during the coming session.
Since 1852, it has been convention for the ruler to land at Parliament in a gold carriage accompanied by the family unit mounted force – around 120 steeds – and in full customary dress.
The crown and formal embellishments were missing from the Queen's outfit in 1974, after then-PM Ted Heath's choice to call a snap political race.
The entire occasion was additionally downsized in 2017, three weeks after previous executive Theresa May likewise called a snap political decision.
At that point, the Queen landed in a vehicle instead of her carriage – there was too brief period to practice the steeds in light of the fact that Trooping the Color had occurred four days sooner.
She wore a blue coat and cap, much commented upon in the wake of the Brexit vote, as opposed to the crown.
This year the crown was conveyed to Parliament in its own carriage and stayed at the Queen's side as she conveyed the discourse.