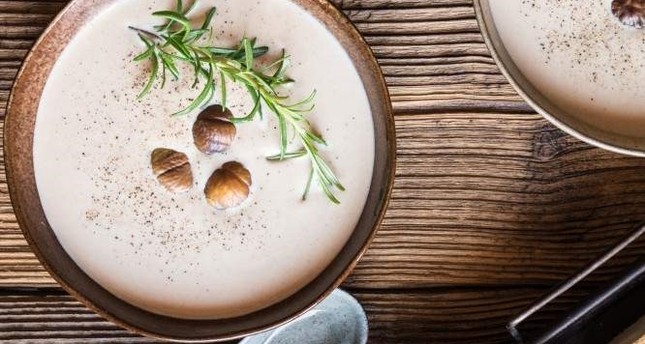 hestnuts are an essential winter treat, so it is only natural that one should make some kind of dish out of them. This soup adorned the tables of Ottoman sultans hundreds of years ago and should make its way onto your plate as well. As with fellow classic lentil soup, there are many variations on this recipe – some adding thick cream and others incorporating pumpkin – the latter being a particularity of the Zonguldak area in the Black Sea region. So, here's my take for chestnut soup – the fourth and final recipe of Soup Month.
Ingredients
1 kilogram of chestnuts
2 tablespoons of butter
1 medium-sized onion
1 liter of chicken broth
1 clove of garlic
½ teaspoon cinnamon
Recipe
Roast the chestnuts well and peel them. Put a few of the peeled ones aside to use later and chop up the rest into small pieces.
Melt the butter in a pot of your choice and fry the chopped onions and garlic until the onion becomes translucent. Add the chopped chestnuts, give them a good stir and cook them together for two to three minutes.
Pour chicken broth into the mix and boil for 20 minutes.
Turn the stove off and run the soup through a blender until its texture has smoothed out.
As a finishing touch, add ½ teaspoon of cinnamon.
Serve the soup with a few extra chestnuts and enjoy!
Tips
Add a dash of cream for a more velvety texture.
You can swap out the butter for coconut oil or olive oil and use water instead of chicken broth to make the dish vegetarian or vegan.