A rugby class mentor who was put on a ventilator as he struggled coronavirus has said he has been experiencing "flashbacks and cold sweats".
Brendan Sheridan, 41, from Dewsbury, went through about fourteen days in an instigated trance state in concentrated consideration.
The Oldham RLFC mentor went from feeling "9 out of 10" to attempting to take very quickly.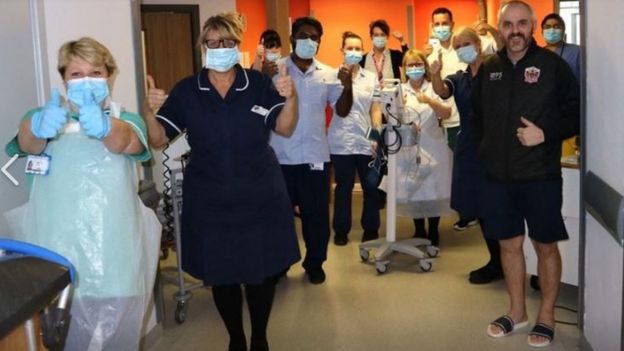 The dad of three stated: "It doesn't appear to show signs of improvement. I've had around 20 hours rest in about fourteen days."
Mr Sheridan was the first Covid-19 patient to be put on a ventilator at Pinderfields Hospital in Wakefield after he became sick in April.
He woke up and feeling fine yet by the night it felt like "somebody had actually crushed the life out of me".
He was taken to emergency clinic where his next memory was getting up about fourteen days after the fact.
He said albeit genuinely he was recuperating, he was confronting a psychological battle and had day by day dreams of not having the option to bid farewell to his family and youngsters.
He included: "Flashbacks, awakening in cool sweats, winding up in better places of the room not really knowing why.
"The fantasies are striking and it's simply the stun and frenzy of not having the option to inhale while I'm snoozing."
Mr Sheridan said he was standing up to support others, particularly men, who were battling with their emotional well-being.
"I've had a ton of things over a great deal of years that I've held inside and as a result of what's occurred over the most recent few weeks it's made me put delay on my life."
"Being in the game that we are, particularly rugby class, and simply any game as a rule for a male, to open up is a truly extreme errand in itself.
"My recommendation to put out there is any man, whatever calling you're in, don't be embarrassed to connect.
"On the off chance that it's not conversing with an expert, seize a companion or a relative and get things out into the open."