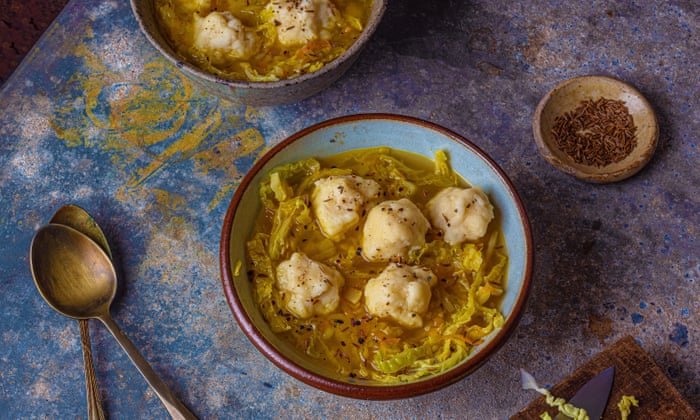 Serves 4
For the dumplings
potatoes 400g (desiree are acceptable here), stripped
spread 40g
egg 1 huge
self-raising flour 50g
preparing powder ½ tsp
ocean salt 1 tsp
spread 25g
olive oil a little glug
leek 1, cut, all around washed and daintily cut
onion 1 huge, stripped and finely hacked
carrot 1 huge, stripped and ground
garlic 4 huge cloves, stripped and finely hacked
stock 1.25 liters
caraway seeds 1 tsp
crisply ground dark pepper 2 tsp, not very finely ground
salt
cabbage 300g (ideally hispi), destroyed, at that point coarsely cleaved
cleaved parsley 1 piled tbsp
For the dumplings, put the potatoes into a steamer and cook until delicate. Permit them to dry out for a couple of moments, while still hot, go through a potato ricer (best) or a vegetable factory (mouli-légumes) into a bowl, yet do whatever it takes not to over-work them. Presently, completely beat in the rest of the fixings and leave to cool and solidify in the cooler.
For the soup, heat the margarine and olive oil in another enormous skillet, include the leek, onion, carrot and garlic and fry tenderly until mollified yet not hued. Include the stock, caraway, pepper and salt to taste. Raise to a stew and cook for 20 minutes. In the mean time, bring a huge dish of salted water to a delicate bubble for the dumplings.
Add the cabbage to the soup and keep on stewing until it is delicate. To cook the dumplings, gather up little bundles of potato blend with an oiled teaspoon and drop into the bubbling water; 5 for every individual is about right. They will grow marginally, coast up to the surface and be prepared in 4-5 minutes.
To collect, mix the parsley into the stewing soup, tap into four hot soup bowls and include the dumplings. Serve straightforwardly.